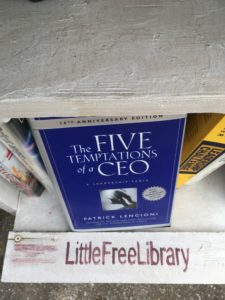 I've always been a big reader. Besides fiction and sustainability-related books, one of the other categories of books I read most is business books. (A low-footprint lifestyle helps me protect my time so I never have to say I don't have time for reading! So if you want more time for reading, that's just one more incentive for you to minimize your footprint, and I hope this blog and my book will help you.)
One of my favorite business reads over the past few months was The Rainforest: The Secret to Building the Next Silicon Valley. This book by Victor W. Hwang explores the "secret ingredients" that turn a place into a hotbed of innovation and investment. I also greatly enjoyed The Lohman Way: Entrepreneur Lowell Lohman's Story and Strategies for Building Multimillion-Dollar Family Businesses, by E.L. Wilks.
But yesterday I picked up a business book that ended up being possibly my all-time favorite so far: The Five Temptations of a CEO, by Patrick Lencioni. (The photo above shows the book in the Little Free Library I set up in front of my house.)
I devoured the book in a couple of hours. The author identifies five "temptations" that CEOs fall into, that end up harming their companies. These five temptations are 1) choosing status over results; 2) choosing popularity over accountability; 3) choosing harmony over conflict; 4) choosing certainty over clarity; 5) choosing invulnerability over trust.
Mr. Lencioni wrote his book for CEOs of companies. But, as a self-employed person, I've always considered myself to be a CEO too, albeit CEO of a company with just one employee. Today, looking through the lens of "The Five Temptations," I've gained a deeper understanding of a catastrophic business failure I experienced a few years back, and how to avoid repeating those mistakes.
Here's what happened. A few years back, I got involved in a venture with other self-employed people. We were working together, but keeping our finances separate. Things were going fine, til one year I absolutely tanked financially. Ended up not only with zero money to my name, but actually in the red. Truth be told, I'd been struggling for quite some time, but I had just kept throwing money at my problems rather than look into the root causes.
From a "Five Temptations" standpoint, here are the mistakes I made:
1) Choosing status over results: After achieving a certain measure of success, I became preoccupied with where I stood in relation to my teammates. I got into comparing myself with them and envying them the recognition they were getting, and seeking such recognition for myself rather than staying focused on our actual work, which was to help people make desired changes in their lives.
2) Choosing popularity over accountability: In working with clients, I was out to be "liked," be the "good guy," rather than be the "tough guy" who pushes people to fully attain their desired results. A no-win game.
3) Choosing harmony over conflict: By not being willing to ask hard questions, I squandered time and energy engaging with people who weren't good candidates for our products and services (and in the process, probably overlooked people who were seeking what we were offering).
4) Choosing certainty over clarity: Rather than make decisions based on the information available to me and move forward, I became a procrastinator, always waiting for that last bit of essential information so I could be 100% certain of success before making a move. Never happened!
5) Choosing invulnerability over trust: When I started getting into trouble, rather than confide in my teammates I kept things to myself and struggled alone, focused on "keeping up appearances." If I'd been willing to be vulnerable, I'd have gotten some solid advice and moral support (which did in fact happen later, once I was willing to confide in them).
What's nice about the "temptations" framework is that it offers a simple (though not necessarily easy) path to self-correction. Although I'd never heard of the Five Temptations until yesterday, much of what I did to recover from my business collapse was in keeping with what I read in Mr. Lencioni's book.
I am very fortunate to have what I consider a calling in life, and quitting it is not an option. Therefore I always need to be willing to look at myself and make corrections when things aren't going well.
My favorite business books are applicable not just to business, but to life in general. In an upcoming post I'll talk about a time in my life when I fell into the "Five Temptations" to the detriment of some of my most valued personal relationships. And how I got out of that!